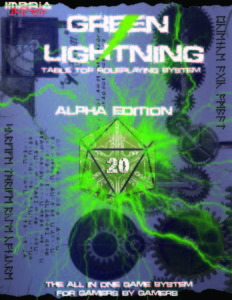 Welcome to Green Lightning Role Playing.
At this time I would like to thank you for your interest in our Alpha system. While your experience may start here with the beginning basis of our role playing system it doesn't end here. As this system is designed to keep growing and updating from creations that we at Imbria Arts create, but also through you the fans, new content can be added to fit any number of games, styles and ways you want to play. At this time you can head over to our home website at www.imbriaarts.com/rpg/ and sign up to the system. Once you're active you can post your suggestions and ideas straight to the comments or email us. Please include some way for us to get in contact with us so we can place your name in the listing of creditors with each system addition/update we release. Of course this is a way to also keep updated on new additions to the game system as it develops.
About the Alpha edition:
When new games come out often they are placed into the hands of people to play test. Often the versions of play tests will alter and adjust the game to what the tester deem good and bad. But at Imbria Arts we aim to do things differently. So here is what we have done. In the past few years the system has been designed with each element being tested along the way and finally is being brought together into this rough form. Instead of having countless people brought in to test the system and have to raise the cost of the system for you we are offering this rough unedited version of the Game system at a low cost, and in turn we ask that you help by providing issues, suggestions and opinions on our game system.
As for the game System itself, we have combined the elements of several previous game systems and introduced a few new things as well but primarily anyone who has played standard 20 based games before can easily find these rules are in many ways similar. For those that have played our fan based games before, you should already be familiar with much of the character building with only a few new changes, most importantly of which is the way the system is built to work around the game style and setting you wish to run. We have designed this system to simplify the game mechanics and alter what is available for play based on the game setting you choose to run. Letting players go from pure hardcore survival horror, to light hearted comedy, to intense powerful science fiction action, to even classic fantasy role playing. All settings and styles are available to be channeled and controlled with little chaos and unfair balancing of power in ether the players or Game Masters hands.
Once again thank you for your support and we look forward to hearing from you ether on the website or through email contact at [email protected].
Thank You
Brittany Dodson
Imbria Arts founder
Hey do you want to see more? Do you like comics like this? Well support us for more.
Join our Patreon at Patreon.com/DemonBlade
With a subscription you gain
Week Early release of our own comic series Demon Blade demonbladecomic.com
Be one of the weekly Patreon Sponsor pages where Brittany will draw anything you want if your one of the chosen Patreon supporters of that week.
Additional bonus available and new Green Lightning options coming soon!