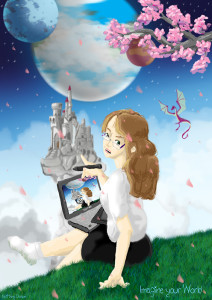 WHO IS BRITTANY DODSON?
A skilled Artist and writer located in Richmond, VA. Has the skills and talents you may be looking for. A skilled cartoonist that currently has released a monthly comic book series, and a science fiction novel, Brittany is devised and has strong skills in cartooning, animation, video editing, directing, sign building, writing, web design, and digital publishing. Her work has been used in the past by DuPont, Exxon Mobile, St Mary's Hospital in Fredricksburg, VA and more. She has also run her own site imbriaarts.com for the past 19 years.
LIKE BRITTANY'S WORK THEN SUPPORT HER BY PURCHASING HER TITLES
Brittany Dodson has released and continues to release new titles every month through Amazon.com and several other sales sites. Titles such as Demon Blade (Monthly comic series), 11 Kingdoms (science fiction novel), Gloria's Gospel (a spiritual novelette), and Sweet Dreams (Omnibus book release) are on sale now. Purchase the books here at Amazon.com.
Site will require pop-ups active and adobe pdf, some animations require flash